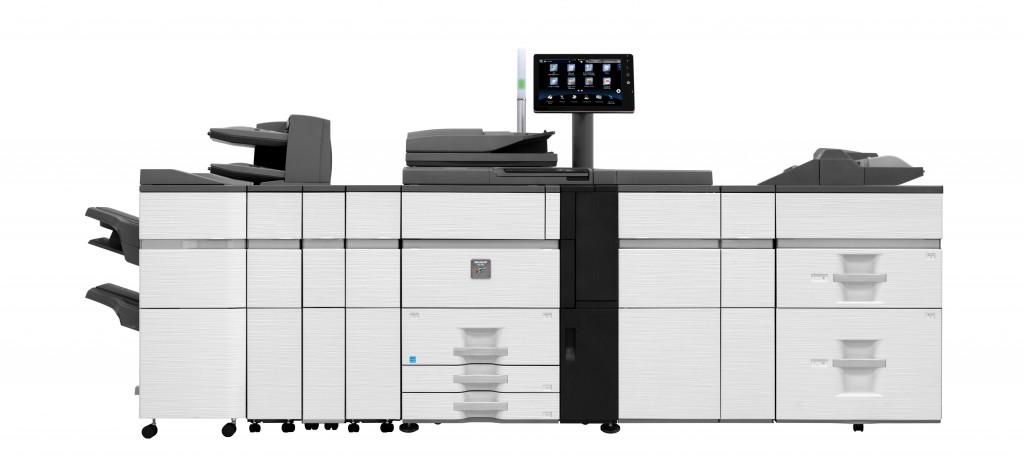 Sharp MX-6500N, MX-7500N Polaris Pro can print on countless types of paper. This system is capable of duplexing up to 110lb stock. It can print on waterproof and tear-proof paper which is very handy for any gritty environments.
Polaris Pro also has a built-in paper catalog to create custom paper settings for your exotic media. In these settings you can change the temperature of the fuser PER PAPER TRAY during a print job. This makes printing on glossy paper or any other normally "difficult" paper a snap. This is a unique feature for the Sharp MX-6500N, MX-7500N.
Bulletproof Dual-Head Document Scanner
The dual-head scanner can accommodate 150 sheets, and can scan up to 150 images per minute in both color and B&W. It scans both sides of a two-sided original in one pass without flipping the paper around. This results in greater productivity, fewer jams, and less wear and tear on your office equipment. If you have a job that is more than 150 sheets you can use the job build function to create larger documents. 
Fiery Color Print Server Integration
You can make use of the Sharp MX-6500N, Sharp MX-7500N Polaris Pro with or without a Fiery Color Print Server. If you decide to use the Fiery it integrates seamlessly with the touch screen display as seen below. No need for an additional workstation to be setup in your workroom; it can all be done from Sharp's 15.4 inch hi-res display. There is a keyboard and mouse track-pad right on the front of the Polaris Pro for quick data input.
High Yielding Supplies and Maintenance Duty Cycle
The Polaris Pro toners yield 60,000 pages each at 5% coverage. This is 33.3% more than the MX-6240N supplies. The preventative maintenance cycle is over 300,000 pages. The life expectancy of Polaris Pro is 9,000,000 pages. That's not a typo; 9 million. Print up to 150,000 pages per month.
Polaris Pro – The Game Changer
In summary, stop spending an arm and a leg outsourcing printing that you could do in your office. The Polaris Pro can produce anything your local print shop offers for an affordable monthly price.
Create professional brochures and booklets to showcase your products and your company.
Sharp MX-6500N, MX-7500N can fit in most workrooms because of it's small footprint.
Seamless Fiery Color Print Server integration
Feeds and prints on nearly every paper type, weight, and texture – including waterproof and tear-proof paper.
Save big on your paper budget by substituting 11 x 17 in place of expensive 12 x 18 paper.
Use the robust scanner to archive all of your documents
Invest in a Sharp system with a 9,000,000 page life expectancy – more bang for your buck